Our Mission
We are committed to providing a child-centered, academic environment whereby we empower our students to become informed, responsible, productive, life-long learners with solid values and positive self-images.
Our Philosophy
Each member of the Riverhill Community embraces the following for our students:
Students will develop a positive self-concept and be encouraged in acceptable manners and discipline and strengthening of socialization skills.
Students are encouraged to seek answers to questions and to learn new ways of acquiring information.
Education includes the teaching of computer skills and of the role and benefits of technology in our lives.
The curriculum which translates Riverhill School's philosophy into reality is student-centered so that the role of each student is an active one.
The school strives to create an atmosphere that facilitates learning and fosters respect of one's self and the rights of others.
Each child is important and is in a constant state of growth and development.
What is an Independent School?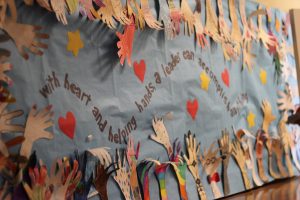 Independent schools are unique. By generally agreed upon definition, an independent school is independent in two critical ways:
Independent in governance–means that the schools are organized as not-for-profit and non-discriminatory corporations governed by a self-perpetuating board of directors, as opposed to being "owned" and run by the government (public schools), by a diocese (parochial schools) or by for-profit entities (proprietary schools)
Independent in finance–means that the schools charge tuition and raise money to operate themselves, as opposed to being supported primarily by public monies or religious subsidies
It is the independence of independent schools that offers to them the four essential freedoms that make independent schools strong:
The freedom to define their own mission (why they exist, whom they serve).
The freedom to regulate admissions (admitting only those students appropriate to the mission).
The freedom to define teacher credentials (hiring, particularly in the middle school and upper school grades, liberal arts graduates who have majored in a discipline and who have a passion about teaching the subject).
The freedom to teach what the teachers decide is important (free from state curricular and textbook and testing mandates).
It is important to note that independent schools, contrary to popular belief and their portrayal in the media, are not "elitist" in any way except in terms of academic expectations. The typical independent school often has more diversity (racially, ethnically and socio-economically) than the neighboring public schools (many of which are quite homogeneous). The socio-economic diversity of independent schools, for example, is supported by a significant commitment to financial aid. Independent school students come from all family income levels, and approximately 20 percent of them typically are supported by financial aid.
Sources: Powell (Lesson from Privilege), Heath (Schools of Hope), National Center for Educational Statistics (NCES), National Association of Independent Schools (NAIS).
Why Choose an Independent School?
Independent school market research has long shown that families new to independent schools choose our schools primarily because they perceive the quality of teaching to be exceptional and the moral climate to be appropriate. Surveys of independent school parents reveal a remarkably high level of satisfaction from and support of the parents in our schools.
Longitudinal research confirms the wisdom of choosing an independent school. Comparisons of independent school students with those from "privileged' suburban public schools reveal the pattern for success that favor those who attend independent schools.
Sources: Powell (Lesson from Privilege), Heath (Schools of Hope), National Center for Educational Statistics (NCES), National Association of Independent Schools (NAIS)